2008-Jun-9 - Clara G & Jasmin Fisting, Squirting

Download this movie at Fistflush.com

Clara G & Jasmin
Actions: Fisting, Squirting

As always Clara is lovely . She knows what there is to know about fisting and the squirting is delightful . I would personally love to make her squirt while making delicious love to her . One can dream no ? Iwould just like to see her put on a bit of weight , may be five to ten pounds . I am convinced you would look more than double as delicious sweetheart . How about it ?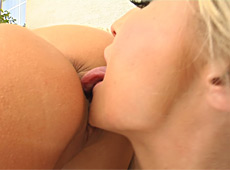 • 2 Comments • Post A Comment! • Permanent Link
2008-Jun-7 - Katerina & Tina Fisting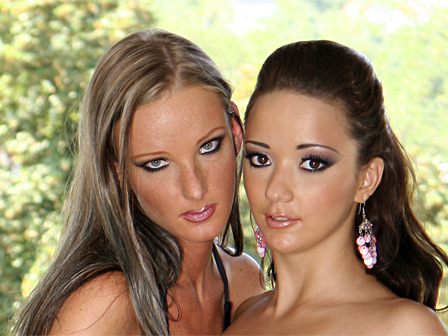 Download this movie at Fistflush.com

Katerina & Tina
Actions: Fisting

I almost busted a nut just seeing the photos. These two girls are gorgeous. They both have incredible asses that could carry the video without assistance. However, all is not well in Fistflushia.

This video hits all the necessary markers, but nothing more. Are the girls hot? Yes. Is there fisting? Yes. The end.

I feel bad complaining about this video since it is so enjoyable. However, one slight addition would have blown me away. Why is there no deep kissing or making out? Without it, the girls never seem to get into it until they are wrist deep into each other. They seem to be following instructions instead of following their instincts.

Especially in the first part of the video, they never seem to enjoy what they are doing, or are about to be doing. Don't get me wrong, this is a great video. It's the difference between two lesbians and two girls having sex with each other. Does that make any sense to anyone but me?

Pros: These two asses are to die for.
Cons: Low passion for most of the video.

My Score: 3 out of 5

- Civ


• 0 Comments • Post A Comment! • Permanent Link
2008-Jun-7 - Clara G & Zafira & Sandy Fisting, Squirting

Clara G & Zafira & Sandy
Actions: Fisting, Squirting

"You've gotta be shittin me!"

No, this is not the name for a new fetish website. It was my reaction when I saw no one has reviewed this video yet.

In this perfect score candidate, we find three pre-legends. Sandy's a superstar in the girl-girl world, with an extensive resume with Viv Thomas videos. Clara G has knocked it out of the park in every video she has done for this family of websites. Zafira is wanted in three states for making reviewer's crotches burst into flames.

Now, this is a good example of girls getting into it. In a twister of licking and nibbling, nowhere is safe?…or dry. They even go the extra mile of kissing each other on the neck. Wait a sec, I need to go turn down my air conditioner and get a glass of water?…and a fire extinguisher.

The lesbian action at the beginning of the video should be mandatory viewing by upcoming starlets. This educational video should be pointed at as the standard for all girl-girl scenes. They progress from kissing, to snatch eating, to fingering with ease and excitement. They work as if they mean to get each other off, not playing to much to the camera or doing attempting to fake it.

Clara seems to have a thing for blondes. Sandy is the focus of much of her attention. She even makes out with herself in the mirror. They take delicious turns eating each other out and fisting one another. Another plus to this is the ease at which they use each technique. In other videos you can mark the passage of time when the girls go from mouth to finger to fist to wrist. In this one we are assaulted by all three at all times. The camera operator must have had his/her hands full trying to get all of it. P.S. I would like to try too!

The hottest part of the video is when Clara and Zafira are stacked up and Sandy gives them both barrels. Zafira doesn't seem to get as much attention, even here. Obviously some discrimination exists, even in the porn world. Come to me Zafira, I will give you all the attention you can handle and the restraining order will allow.

Pros: A perfect video. Outside talent, gorgeous girls, and excellent action all around.
Cons: None.

My Score: 5 out of 5, congratulations girls.

- Civ

Download this movie at Fistflush.com


• 0 Comments • Post A Comment! • Permanent Link
2008-Jun-7 - Zoe & Joysen Fisting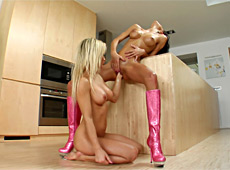 Zoe & Joysen
Actions: Fisting

I love Zoe. I have never seen her do a boy-girl scene though. Perhaps that makes me want her more. Joysen is a stunner too. Another great combo, light and dark, tall and not so tall, thin and voluptuous.

In this scene Zoe seems she is the mega dyke who brings her hot blonde girlfriend to your Super Bowl party. Joysen, though feisty and enthusiastic, follows the direction and lead of the goddess Zoe. They go back and forth, putting progressive larger and larger objects in each other.

Now the moment of truth. Zoe starts to fist Joysen, who seems to enjoy it, but may not be accustomed to it. You had better get used to that if you are going to be hanging out with Zoe. Joysen steals the scene with her passionate moaning and discomfort and her futile resistance.

The roles are reversed and Joysen awkwardly returns the favor. Clearly she is better at receiving than giving. She must receive further discipline and training if she is to be a minion of Zoe. The good news is she nearly gets in past her elbow.

They go back and forth on each other. Joysen makes a huge impact on this scene. Does she outshine Zoe? Hard to say. The fact that she even comes close makes this a stunning video indeed. I love you girls! Call me, I have fists too!

Pros: Not one, but two gorgeous and ravenous beauties.
Cons: More everything!

My Score: 4 out of 5

- Civ

Download this movie at Fistflush.com


• 0 Comments • Post A Comment! • Permanent Link
2008-Jun-7 - Belicia & Suzie C Fisting

Belicia & Suzie C
Actions: Fisting

Belica and Suzie make a hot pair. Ones a brunette and the other is almost a brunette. They both have fantastic bodies. Belica has an awesome tattoo of paw prints going up her spine. That's gotta hurt.

Belicia seems to really get in the mood, while Suzie relies on her beauty a bit too often. However, as the video progresses and the temperature rises, the ice thaws and this turns into a first class lesbo flick. LESBO is not in my spell-check dictionary??? It is now.

The cameraman reaches into the scene on a few occasions. I would welcome some dude whipping it out and fucking these girls, but not for laughs or stage direction as we see here.

The bottom line is this starts at a 2 or so then goes up to a 4, but the man-hand and the awkward pissing nearly bumps it back down to a 2. I'm feeling generous today since these girls did a really good job.

Pros: Gradual increase in tempo changes a liability into an asset.
Cons: Man-hand and the gratuitous pissing at the end.

My Score: 3

- Civ

Download this movie at Fistflush.com


• 0 Comments • Post A Comment! • Permanent Link
2008-Jun-7 - Simona & Virginia Fisting

Simona & Virginia
Actions: Fisting

Simone and Virginee can be considered porn veterans by now, I think. Fucking as a performance is something that develops over time, with experience. This video illustrates why that is so true with these two.

They really seem to be enjoying themselves and the comfort level is a pleasure to watch. As they undress each other, we see their movements as natural, coming from instinct. Strange that I'm describing a fisting movie this way.

They work well together with an assortment of toys, leading up to a double-sided black dildo that Virginia seems to enjoy a bit too much. Instead of phasing out the dildos we see they are used along side the fisting that happens for the remainder of the movie. This adds a bit of realism to the video. At some points they have dildos or fists sticking into and out of all parts of their bodies.

Another solid performance for these girls gives me yet less space on my hard drive.

Pros: They could teach the new girls a thing or two. That would be hot.
Cons: None really, objective complete.

My Score ?– 4 out of 5

- Civ

Download this movie at Fistflush.com


• 0 Comments • Post A Comment! • Permanent Link
2008-Jun-7 - Bonnie & Cindy H Fisting, Squirting

Download this movie at Fistflush.com

Bonnie & Cindy H
Actions: Fisting, Squirting

Bonnie and Cindy make a very sexy combination. Cindy is a young, slender, sexy brunette. Bonnie is, well, Bonnie. If you have seen any of her videos you know what I mean. Dang.

In typical fashion, we jump directly into Bonnie's pussy. We don't have time for introductions or long make-out scenes. Bonnie puts that new bitch to work immediately. They take turns eating each other out. They do a great job of getting into what they do, and getting into each other. Bonnie seems less interested in how Cindy's doing and more interested in what kind of massive object she can cram in that little hole. She's incorrigible.

We quickly go from 1 to 5 fingers plus a few knuckles. Bonnie grows inpatient, but what else is new? She starts tapping her own well in an effort to make herself squirt. I'm not a fan of the squirt, but it would be disappointing if this video didn't feature it. Bonnie works herself into a few eruptions. Hey, where did Cindy go?

Bonnie commands Cindy to reach into her ass and look for treasure. Its way back there, so use your fingers, knuckles, hand, and wrist. Stop me if I've made this joke before on other Bonnie video reviews.

Cindy gives up after developing tennis elbow. The two girls get working on themselves. A real example of the difference between a slut and a super slut is revealed to us by their self-fisting. The cumshot is delivered in my pants this time.

The bottom line is Cindy is a bit young and not nearly slutty enough to compete with Bonnie. It's like Muhammad Ali fighting Stephen Hawking. This may be why they were paired up. Bonnie can now be called a mega-slut, a title only given to a choice few. This video was no challenge for her, but it's nice to see her training some of the newbies.

Pros: Insert missing watch joke here.
Cons: Starring in this video is Bonnie, Bonnie's fist, Bonnie's ass, and?…some other girl.

My Score: 3 out of 5

- Civ


• 0 Comments • Post A Comment! • Permanent Link
2008-Jun-7 - Sandra & Milie Fisting

Sandra & Milie
Actions: Fisting

Are you people cloning Hungarians? In a seeming endless supply of hot Euro girls, we see another example of why I should call the Priceline Negotiator and book a trip to the old world. Props to Cap'n Kirk.

In this video Milie is the dark haired stunner and Sandra is the?… wait. Ok, one has a necklace and one does not. I'd use the clothes to tell them apart, but I have a feeling they won't be around much longer.

Spoiler Alert: Necklace girl is played by Sandra and Non-Necklace girl is played by Milie

Is there anything groundbreaking in this video? Not as far as I can tell. Is this a great video nevertheless? Absolutely. They both seem enthusiastic about their roles. Necklace girl seems to be a little dominant of non-necklace girl.

In a stunning use of a vegetable, a great deal of the scene is used to showcase why the produce section at the local market will never be looked at the same. Are other vegetables jealous of the mighty, erect cucumber? Hell, I am.

For the remainder of the video, they take turns fisting each other. These girls really get into it. Necklace girl plays directly to the camera at times while non-necklace girl seems to focus on getting off. So, she and I have a lot in common?

Pros: A solid hit into my awaiting crotch.
Cons: Can't complain, really.

My Score: 4 out of 5

- Civ

Download this movie at Fistflush.com


• 0 Comments • Post A Comment! • Permanent Link
2008-May-24 - Clara G Fisting, Squirting

Clara G
Actions: Fisting, Squirting

Clara G is looking as hot as ever with vibrant red lipstick and a matching outfit. This girl is the fisting queen and is obviously horny as hell as she can't help but slide her hand underneath her pants to play with herself. She bends over and shows off that famous ass of hers. She crawls over to a chair, where she sits and takes off her bra. She pulls off her pants and the scene shifts indoors where she's on a lounge chaise rubbing her clit.

She takes a large, clear dildo and rubs her vagina with it before inserting it into her wet cunt. She uses her feet to hold the dildo and thrusts it in and out repeatedly. She then places the dildo on the chair and goes into cowgirl, bouncing up and down on it. Very sexy. She puts her legs way up behind her head and uses both hands to fuck herself with the dildo, then pulls it out and starts sucking it deep. Wonderful!

She is then given a bunch of bananas, three to be exact. After sucking one for a bit, she does an amazing thing. She puts two of the bananas in her vagina and one in her asshole. A banana double vag-DP! Unbelievable. She then positions herself with one leg on a chair, ass in the air, and proceeds to fist herself. She then gets into mish position and we get fantastic closeups of her face and vagina as she fists herself even more. Words can't describe how hot this is, with her self-fisting, facial expressions, and hot red shoes all in the same picture. This is hardcore at its finest.

By the end, Clara continues fisting and her vagina starts squirting uncontrollably. She loves it. She spreads her vagina open and shows it to us before saying goodbye.

Fantastic scene, Clara is still a world-class performer. This should not be missed.

Rating: 9.5/10

Download this movie at Fistflush.com


• 0 Comments • Post A Comment! • Permanent Link
2008-Apr-22 - Bonnie & Brittney Fisting, Squirting

Download this movie at Fistflush.com

Bonnie & Brittney
Actions: Fisting, Squirting

This is one unbelievably hot and very aggressive fisting movie, these girls don't hold back anything and push the limits, I think Britney found Bonnies when she tries to push punch fist her ass with a clenched fist. :)
This is the kind of movie that makes you think; omg thats too much.. give me more :)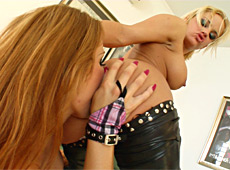 • 0 Comments • Post A Comment! • Permanent Link
2008-Apr-20 - Lara & Zafira Fisting

Lara & Zafira
Actions: Fisting

I'll second that.. They really don't get much hotter than this. The balance of lesbo and fisting could be better, true also. But damn these girls are pretty! Perhaps (and its probably doubtful but you never know) Lara may move into girl on guy sex or even a jizz swap scene. Anyway, seeing these two in a semi lesbian scene is a worthy distraction in the meantime.

Verdict
8 / 10

Download this movie at Fistflush.com


• 0 Comments • Post A Comment! • Permanent Link
2008-Apr-19 - Lara & Zafira Fisting

Download this movie at Fistflush.com

Lara & Zafira
Actions: Fisting

I remember a time there was a distinct line between a porn actress and girls "too pretty for porn". My, how times have changed. Not only are these two ultra hot, but they do things to each other that are banned in several states in the U.S. Zafira needs no introduction. I've talked about her so much; her name doesn't appear as a spelling error any more on my computer. Lara is a stunner herself, tall, leggy and horny. These girls start licking each other in a completely unfair manner. Causing balls to ache all over the world. Additionally, the cameraman seems to be a camerawoman. She, like the other camera people can't keep her hands off these two. Can you blame her? But hey, why aren't these two kissing and making out? Perhaps it's hard to kiss someone you're about to go shoulder deep into their body.

They pet each other sensually, not really getting into the lesbian side of things until later on. The camerawoman squirts milk into Zafira's pussy. After she squirts it out, they both lick it up off the floor. New? Yes. Strange? Yes. Hot? Yes, but only because it's these two.

The next scene they are rubbing themselves until they are handed two envy-producing dildos. For "lesbians" these two sure do know how to suck cock, real or not. Finally, Zafira jams her hand into Lara up to her knuckles. After taking turns with the camerawoman, Zafira finally licks Lara's pussy. This lasts a few seconds, unfortunately. Next, it's Lara's turn to go wrist deep into Zafira. Good news, she found the rest of that milk from earlier in the video!

Next they move to the stairs and take off their boots. The camerawoman pisses all over their feet. Thanks?

Zafira goes back to working on Lara and vice versa. Lara eats Zafira out while she fists her. For a cool down Lara wants a kiss, but Zafira doesn't. Aww.

Pros: They don't get much hotter than these two.
Cons: Not enough lesbo action.

My Score 3 out of 5

- Civ


• 0 Comments • Post A Comment! • Permanent Link
2008-Apr-16 - Candy & Missy Fisting

Candy & Missy
Actions: Fisting

Well, Candy is back and sexier than ever and she also has a nice friend.

I really couldn't imagine Missy's fist going in Candy, but she manages to get it up there. This is great, we got plenty of time to admire her beautiful pussy. Missy getting fisted is great as well. She takes it fast and deep.

Another great bit is the pussy licking. God I love watching 2 girls make out with each other.

8/10

Download this movie at Fistflush.com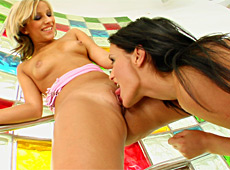 • 0 Comments • Post A Comment! • Permanent Link
2008-Apr-16 - Bonnie & Brittney Fisting, Squirting

Bonnie & Brittney
Actions: Fisting, Squirting

Holy Fuck. This is one crazy movie. I think these 2 girls were actually born just to do porn movies together. I loved there one on AllInternal and now this one. Fuck me...

There is some crazy shit in this one. Bonnie takes a whole fist up her ass hole which is just crazy, but she also manages to fit a hand up her snatch at the same time. She squirts as well, and Brittney must love the taste of it.

A brilliant bit is where Brittney is pounding Bonnie's snatch with a massive dildo, and when Bonnie squirts she Brittney catches it in her mouth and sprays it in Bonnies face. This happens repeatedly, and Bonnie squirts so much I think she might need to see a doctor.

The fisting is great, nice and deep. These girls take no prisoners.

Fucking 9.5/10 :wink:

Download this movie at Fistflush.com


• 0 Comments • Post A Comment! • Permanent Link
2008-Apr-16 - Clara G & Peaches Fisting, Squirting

Clara G & Peaches
Actions: Fisting, Squirting

Wow

Face: A+
Body: A+
Charm: A+
Sex A

(A: I'm going to explode, B: Surefire stiffy, C: Hey, at least it's sex, D: Time for a sandwich)

This video is the first FistFlush video I have seen. I've never really been a fan of fisting videos. What compelled me to download it was the starlets involved: Clara G and Peaches. These two girls belong on the A+ List of talent Perfect Gonzo has had the pleasure of shooting over the years. Watching these girls doing extreme lesbian sex acts on each other was downright amazing. I especially like when Peaches was doggie-fisting (did I just make up a new term?) Clara G while spanking her with her free handat 29:43. Talk about multitasking. I also liked that the girls had chemistry and were talking dirty to each other.

Hot girls. hot action. Very kinky. Even if fisting is not your thing, this video is memorable. I'll definitely check out more vids from Fist Flush after watching this one. Kudos to the guys at PG for bringing us something new.

Highly recommended.

-Scenedoc

Download this movie at Fistflush.com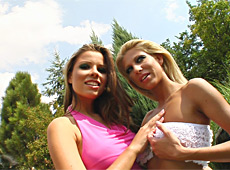 • 0 Comments • Post A Comment! • Permanent Link
2008-Apr-15 - Clara G & Peaches Fisting, Squirting

Download this movie at Fistflush.com

Clara G & Peaches
Actions: Fisting, Squirting

Short Version: Clara, a beautiful blonde bitch, and Peaches, a sweet-looking brunette, take each other on in a no-holds barred lipstick lesbian fuck-fest, featuring full vaginal fisting by both girls.

Highlights: The video starts off with a fun, flirty interview that is fun to watch. Both of these girls are comfortable with each other and before the camera. The talking becomes a part of the performance with the girls telling each other what they want to do to each other throughout the video. The cameraman does a nice job of contributing but staying out of the way. At 17:00 the playing ends and the real lesbian sex begins with Clara intently licking Peaches snatch in various positions. At 20:00, the two girls use their fingers to open Peaches snatch wide. Hmmm...something is going on here. At 20:30, Peaches tells Clara to use her favorite lube, which Clara does ?– all over her hand. Clara spreads some of the lube on Peaches pussy, and starts a slow, fascinating scene that results in Clara's entire hand inside Peaches snatch at 21:50. Clara says, "Spread that chick!" as she fists her. Peaches eventually joins in the fisting fun, inserting her own hand inside her stretched cunt. It's freaking amazing! The video continues with Peaches fisting Clara's snatch until Clara squirts pee all over her hand. The concluding scene has both girls lying on their backs, fisting their own pussies, with enormous smiles on their faces.

Who Fisted Who: Clara fisted Peaches, then Peaches fisted Peaches, then Peaches fisted Clara, then Clara fisted Clara, then they each fisted themselves. Whew!

Drawbacks: Can't think of one except that no male spunk is spewed (visibly) throughout the whole scene. I'm sure that lots is going to be spilled once you all see this video!

Random Thoughts: I'm not sure if it cute or just freaky but it sure is something to watch! :shock::twisted: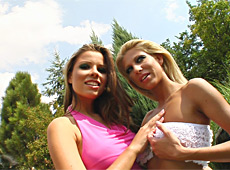 • 0 Comments • Post A Comment! • Permanent Link
2008-Apr-15 - Bonnie & Brittney Fisting, Squirting

Download this movie at Fistflush.com

Bonnie & Brittney
Actions: Fisting, Squirting

Always great to see a new site up from the males at PerfectGonzo. This time we have FistFlush, which one would assume is all about fisting! Luckily for us, we have great potential in this flick with Bonnie, the MILF anal queen, and Britney, a teen anal queen. One can only guess what is in store as the movie opens with these two hotties sitting side by side.

Bonnie makes Britney choke her and slap her face. Britney's top comes down soon after to reveal lovely ample breasts. The girls take turns spitting on each other's faces and there's some spanking too. Britney starts sucking on Bonnie's nipples and rubbing her pussy. Bonnie lays down on the couch and Britney wastes no time eating that cunt up and fingering her until she squirts all over the place.

Britney's leather pants come down and Bonnie starts eating out this cutie's asshole. Lots of nice views of Britney's ass here as Bonnie rims her and licks her pussy. Bonnie then gets a rather monster dildo which she shoves in and out of Britney's slit pretty forcefully. This small girl can really take it! It's pulled out and both girls suck on it, tasting Britney's juices. Britney again fingers Bonnie until she squirts, this time all over her mouth! Very sexy.

We then get what this site is all about, Bonnie in spoon, and Britney taking her fist and shoving it right up her ass! This is incredible stuff, as Britney moves that hand of hers in and out of Bonnie's butthole. Before long, she uses her left hand to fist Bonnie's pussy. That's right, double fisting time! As she pulls out of her pussy, Bonnie lets loose another stream of ejaculate for our viewing pleasure.

It's Britney's turn now. She's laying on her back, and Bonnie spreads her cunt wide to allow her fist access. The fisting commences, but we get another twist as the dildo from earlier is brought back and put in as well! Amazing! Her hole must be stretched to the max.

Bonnie then gets some more anal fisting, and this time gets DPd as Britney takes the dildo and puts it in her twat. And yes, Bonnie squirts again. The scene's last shot is Britney getting vaginally fisted while on her back on a lounge chair, Bonnie really gives it to her good. They kiss and it fades to black.

It's gonna be tough to top this scene as this site evolves. Anal fisting, double fisting, DP fisting, this one had it all. Two wonderful performers stretching their boundaries.

Great start.

9/10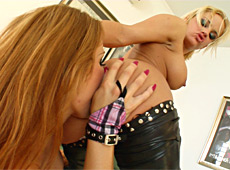 • 0 Comments • Post A Comment! • Permanent Link